stag ideas
Published on March 2nd, 2012 | by StagMan
0
Try something new and stay on a floating island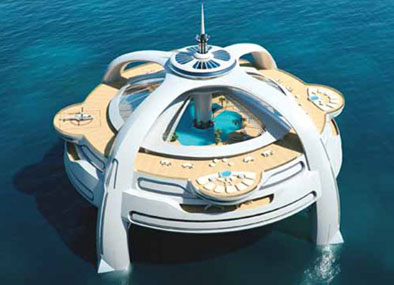 Lex Luthor once said "Land, it's the one thing they're not making any more of these days". That was the case up until Dubai proved that land can be built. Just off the main land, the UAE city have built man-made islands, which has made the impossible possible.
The first in engineering history was the creation of the Palm Islands. Work started in 2001, but development was slow because of the global credit crunch. First residents moved onto the island 2006 and since more visited the island due to the famous Atlantis Hotel.
But there have been other crazy ideas for new islands in the shape of floating islands. Inventors have come up with ideas to turn luxury yachts into floating island, resembling an oil rig. The island would have 11 floors and offer cruise like facilities.
Now wouldn't this be the ultimate stag do where you could have your own Tracy Island all to yourself! It's only a matter of time before more of these pop up and become available in luxurious destinations such as Dubai.
This is more of a millionaire type stag idea but if you & the boys are on a tight budget then see our ready made great value stag weekend packages!
For more information on stag do destinations visit StagWeb.co.uk.
Image source: Gizmag
---