StagWeb news
Published on May 23rd, 2012 | by StagMan
0
The Olympic Torch makes its way past StagWeb offices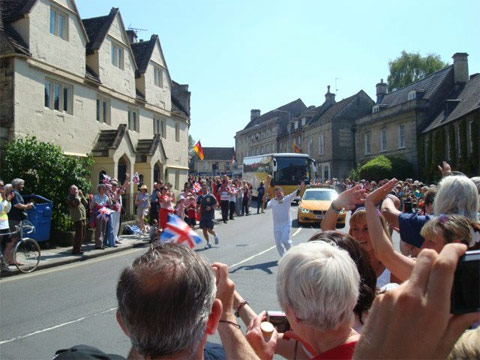 Yesterday, the Olympic Torch made its way past the home of StagWeb during day 4 of the Olympic Torch Relay. The torch started the day in Taunton before making its way through Somerset, Wiltshire, and South Gloucestershire before ending in Bristol.
During the 108.5 mile route, the torch made its way through 20 different communities, which included Bradford-on-Avon – the home of StagWeb! All the team were out on the streets to celebrate the momentous occasion as well as thousands of other locals.
Yesterday the flame also passed by iconic sites including Wells Cathedral and Royal Crescent, with well known stars making up the 147 torchbearers along the way. Yesterday, Olympic hero's Amy Williams and Jason Gardener carried the leg in both Yeovil and Bath respectively. This was after pop star Will.i.am carried the torch on Wednesday.
Today on day 5, it has been announced that recent Chelsea star Didier Drogba will carry the torch during a leg in Swindon. Day 5 started in the glorious sunshine of Bristol and will make its way to Cheltenham, again stopping off at many communities along the way. So make sure you try and get out and join in with the celebrations.
See our video here of the Olympic Torch making its way through the glorious town of Bradford-on-Avon near Bath.
---