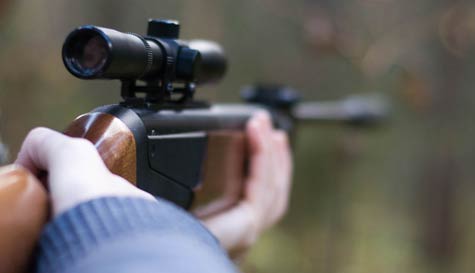 Shooting, it's cool. It's as simple as that really, being able to handle a gun and shoot a gnat's nut at 50 paces. Awesome. Now add some friendly stag weekend competition and you've got a superb afternoon of laughs and banter.
Now sadly we're not about to go handing you armour piercing assault rifles (not considering how much some of you drank last night) but you will be able to get your itchy trigger fingers on some high-powered and supremely accurate air-rifles fitted with telescopic sights. Forget Call of Duty. Yeah, Dave might think he's a bit deadly sat in his bedroom, shooting Australian teenagers from behind. But this requires a lot more skill than sitting in his swivel chair hammering his controller.
The session will begin with a quick safety briefing ("Don't shoot the groom!") and a rundown of the rules. You'll then get hands-on. There's a variety of targets from some daft ones to really difficult, sniper targets. Best of all is the final target which has an explosive ending. Big bang theory, stag style!
Another bonus of target shooting is unlike some other activities where all the guys can get split up and be running all over the shop, target shooting keeps all the guys together so you can enjoy some banter, laughs and absolutely rip the **** out of each stag as they step forward and prepare to shoot. All's fair in love and stag dos.