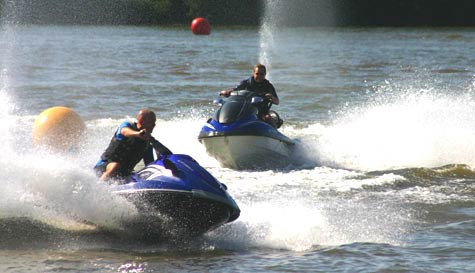 Ok, firstly let's all just get past the jokes about the groom finally having some real power between his legs.
Better? Good.
Now that's out of the way let's talk about the amazing location and high-powered Yamaha Waverunners, these things are beasts! If you're heading overseas on the stag weekend, the chances are you want to get a bit of colour in those cheeks ready for the wedding photos. There's no time to be laying on a sunbed so you can head out on the waves instead on this epic activity.
The friendly staff will show you the controls, they're basic enough so even the groom should be ok with them. You'll also be issued with life vests before you take to the water like, well, stags to water. This really is an amazing location to try jet skis so if you have waterproof cameras or action cams then have them at the ready to capture the best of the action in this glorious setting.
You'll be buddying up, 2-men to each jet ski, while one is steering, the other one will be clinging on and screaming for life. Then you'll switch places. You can book your time slot for the morning or afternoon depending on how bad you expect those hangovers to be.
Not only are jet skis one of the coolest looking vehicles ever invented, they're also about the most fun to ride. Skipping over waves, flipping the back-end round for hairpin turns, cranking them up to get a bit of air off the swell, this is the kind of awesome, adrenaline-pumping activity that stag weekends were invented for.