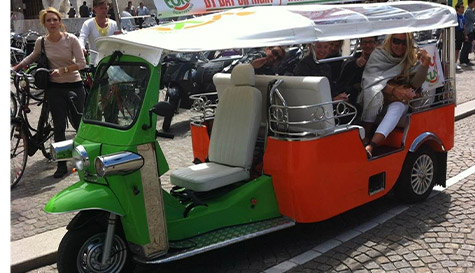 Take a tour of one of the greatest cities on the planet in the ultimate urban transport vehicle. Yes, gents, this is sightseeing with an awesome stag do twist! Forget boring old bus tours or tiresome cycling expeditions, you and the boys will hop aboard your own electric rickshaw and spin-off around the vibrant city of Amsterdam at the hands of a hilarious tour guide!
The Amsterdam stag do Tuk-Tuk City Tour is a brilliantly entertaining, suitably bizarre way to see the biggest and best sights as you fly on by bewildered bystanders. If you're going to all the effort to jet off to a city as cool as Amsterdam for the groom's big weekend away, you need to make time to see the sights and explore the city, and these terrific tuk-tuks are the perfect way to see all that the 'Dam has to offer.
You and the boys will be picked up from your hotel or in a central location before you zip off around the town. Your driver will take you to a variety of sites and the must-see tourist attractions as you bounce about in true stag-style.
Amsterdam is quirky, cool and a little bit different and these little vehicles embody everything this fine city represents. Really, it's the only way to see the city!
Popular in Asian countries, these nifty little three-wheelers are a great way to see the sights. They'd be perfect in Blighty if the weather was so horrendous for 97% of the year!
Once you've soaked up the scenery and grabbed some awesome stag snaps to upload to your Instagram Feeds (to prove you didn't spend the whole weekend in coffee shops and boozers), you'll be dropped off in a central location so you can carry on the hilarity!
Please note: Maximum 6 people per tuk-tuk.