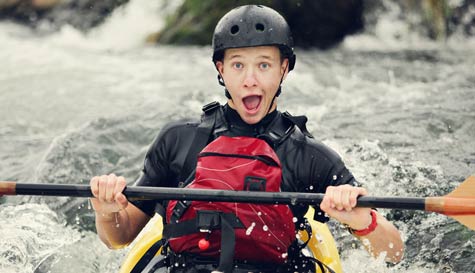 Every good Barcelona stag weekend needs activity and adventure and this amazing stag-sized challenge offers both in some of the most stunning waters on the Spanish coast. How many ways does this activity win?
1 - It's really physical and will push all the stags
2 - There's both food and drink involved
3 - There's even more beers at the end
4 - You get to try something totally new
5 - You'll go swimming
6 - It's based in 'Tossa del Mar'... How many jokes about the groom can one stag party make?!?
The first step is the trip from Barcelona to the stunning location. Here you'll be handed your wetsuits to squeeze into. Some of you might need to squeeze a bit more than others but you will be able to get some great team photos for your Instagram accounts. Once everyone is kitted up you'll take to the water like, well, stags to water. The initial water is a great test of both your skills and strength as things can be a little choppy, which is brilliantly fun to navigate.
The water soon calms and then you'll have time for a few kayak games and maybe even do a bit of racing (but save some energy, it's a long way back). You'll then reach the caves where you'll get your snorkels on and can explore the stunning, warm, crystal clear waters.
And if it doesn't already look like one of the best stag experiences ever, how about a delicious lunch and some drinks?
No? Tough crowd. OK, to up the ante we're also adding an incredible return journey as you paddle through stunning scenery and, to make the coach trip back to the city more bearable, when you get there you'll be taken to a bar for a final round of drinks. Yeah, it's the stag trip that just keeps giving!
An amazing day where you'll create some brilliant stag memories.