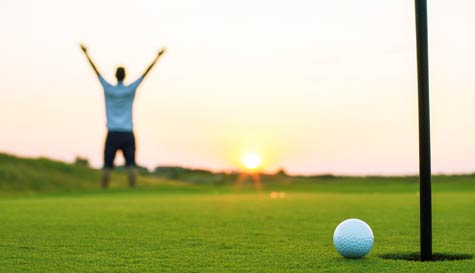 Our Barcelona pitch and putt course is one of the best in Europe. With water features, bunkers and 18 testing holes to sort the Tiger Woods from the Happy Gilmores, this is the ultimate place to work through last night's hangover.

Stag parties aren't all about strip shows and heavy drinking; sometimes it's great to just get together with your mates for some light-hearted banter and some friendly competition. Every stag likes a spot of golf, whether they're total novices or PGA wannabes, which is why our Barcelona pitch and putt course is a sure-fire winner.

It'll take a hole or two for the newcomers to get into the swing of things, but once you're comfortable you'll be sending the ball straight to the green with laser-guided precision so you're just a simple putt away from victory. Typical par is roughly 3: one for the approach and two to putt. Expect tempers to flare when the groom misses from mere inches and the whole group erupts in laughter at his despair.

This is a stag party relaxer, so take it easy, soak up the sun and try not to get teed off when you stick the ball on the rough!