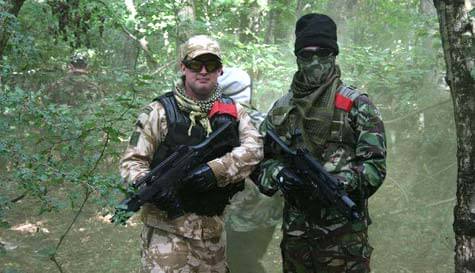 This is it, boys. Take on the challenge of open combat in our laser war games. If you're a fan of war movies like Saving Private Ryan or Black Hawk Down this is definitely for you. You'll be taking to some seriously wild forest surroundings to do battle with your fellow stags in a unique and adrenaline pumping gun fighting experience.

These woodlands have been expertly designed into the perfect variety of different arenas to challenge you and the lads to the absolute max. As you get kitted out in some camouflage overalls and pick up your laser weaponry, you'll feel yourself transform from mere stag weekender to hardened military badass. 'War is hell, man'.

The guns you'll be handling are seriously cool; you'll be using rifles, rocket launchers and mines to destroy the enemy. All the equipment to be used here is developed from military training technology. You'll be getting the complete combat experience here, without any live ammo being fired at you to spoil the fun, of course.

Also, the fact that all these weapons use lasers means that unlike paintball, you'll be able to live your war movie fantasies without actually getting hurt. So you can head off for your big night out without an awkward limp caused by a freakishly well placed shot to the family jewels.

Our laser war games could prove to be the highlight of your weekend. This is thrilling stag competition of the highest quality, as you engage in combat through a variety of challenging war games. Plus there's always the chance you'll end up chasing the groom headfirst into a muddy ditch!