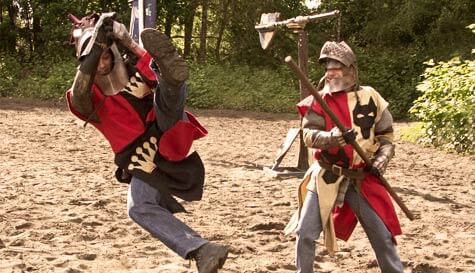 Like the Red Wedding (but with less actual dying involved) this epic day of full-blooded combat training is a true test of stout-hearted warriors... And their slightly hungover companions. The stag do is coming, are you and the Unsullied stags ready for battle?

The event is run by a team of professional stunt performers and stunt coordinators who work regularly on TV and movies, so this really is as close as you'll get to a real battle without charging down the frozen meat section of Iceland, brandishing a stick of garlic bread and screaming "Winter is coming!"

There are three separate training schools:

Sword Fighting
Having been split into rival houses, you'll learn a professionally choreographed long broad sword fight routine, battling against a knight from a rival house. Once training is complete and you're battle-ready each pairing will perform their fight before the rest of the stags and scored on the battle. Who will be chosen to challenge 'The Mountain'?

Longbow Archery
No one really wants to have to climb down the wall, especially if you can fire down from on high without getting your boots cold. You'll compete in a series of quick-fire, accuracy and team challenge rounds. Have you got the nerve and skill to take out a Wilding at 50 paces?

Ballista Firing
In a final battle, your house will take command of a ballista (giant catapult) unleashing pots of "Wild Fire" on your approaching enemies. Can you save the palace or will you be overrun by savage tribes from beyond the Wall?

You can opt for morning or evening sessions.
Packages
There are three packages available;

Bronze - Complete three-hour combat school with the professional stunts team.

Silver - Three-hour combat school plus lunch.

Gold - Three-hour combat school, this is an afternoon session followed by a hog roast and a couple of beers per stag.