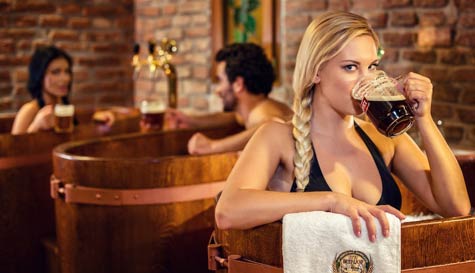 Half relaxation, half beer, all awesome. We can't think of anything we'd rather bathe in to be honest and certainly knocks the bubbles of any old bath bomb or bottle of bubble bath you'll find in your girlfriend's half of the bathroom cabinet. Set in a family owned brewery near Prague that has a fine history in brewing and bottling even finer beer. They've been doing it for years and then one day, one bright spark wondered what would happen if he took a dip in beer.

It turned out the results were... He felt awesome! So awesome in fact that beer baths are now a thing (and in our opinion one of the greatest things ever!). But it's not just beer, there's some science and natural healing mineral waters thrown in too.

You'll have the spa entirely to yourselves, plus your own beer tap and beer bread.

A mix of curative spa therapy that combines a soothing hot bath, healing spring mineral water, with the rejuvenating effects of beer yeast, hops and dehydrated herbs. You and the guys can refresh and relax before the big day or recover after a big stag night out (well if you're ever going to say "I'm never drinking again" you might as well do it while you're sitting in a bath of beer).
Prepare for your big night out with a once-in-a-lifetime experience on the groom's special weekend. There is a good chance that none of the lads will have experienced anything like this, that means you'll be seen to have come up trumps with a truly original idea.
Possibly the finest hangover cure on the planet, it's no average 'hair of the dog'.