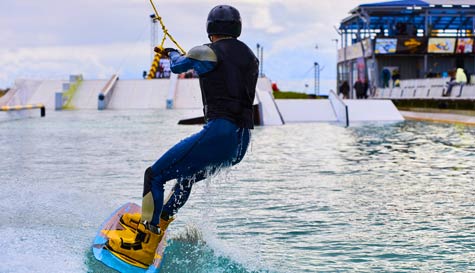 Our Belgrade stag party wakeboarding experience is situated in a stunning location which is ideal to relax, unwind and then let rip with this adrenalin pumping, knuckle-whitening, bowel loosening test of man over (and occasionally under) water.
Traditionally wakeboarding has been really expensive and takes a lot of time due to having to run behind speedboats. This fantastic facility uses a start-of-the-art pulley system which runs overhead and races the boarders through the water at high speed. Still, first things first, let's get all the guys upright and moving in the right direction.
The Belgrade stag weekend wakeboarding team will give all the guys some basic instruction and then be on hand as you take you first steps onto the water and if you never tried it before that's what this awesome activity feels like, like running on water. It's totally mad and will really get the guys pumped.
The site also features changing rooms and a great cafe if you want to grab a bite after your session. We'll also arrange transport for you to and from your hotel, all you need to do is get water and walk on water like the stag legends you are!