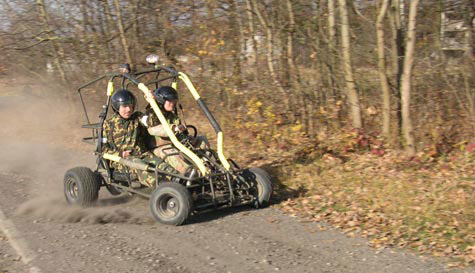 This is how you sightsee when you're in the vibrant party resort of Benalmadena: up in the mountains of the Costa del Sol, kicking up dust as you and the boys head off for a white-knuckle, off-roading adventure. This is sightseeing stag style, gentlemen, and it's bigger, better and crazier than ever.
Prior to your epic Benalmadena stag party Buggy Adventure, you'll have a quick safety rundown and then you'll strap on your helmets to protect your swedes from any damage before you have at it. These 550cc tough terrain tackling monsters will chew up the hillside and spit it out without breaking a sweat, so get ready to feel the full force of their power!
You'll be allocated one kart between two and get a two-hour guided tour where you'll take it in turns to test your driving skills. Whilst the groom may be too busy concentrating on what's in front of him to notice the scenery (because he's not used to having something this powerful between his legs), the rest the stags need to remember to look up once in a while to take in the breath-taking views of this stunning Spanish coastal resort.
Don't worry if any of the guys don't think they'd be able to handle a stick either, all the buggies are automatic so you can focus on trying to keep them in a straight line when you're speeding off at "Waaaaahhhhh" miles an hour!
This high-octane buggy safari is a once in a lifetime stag bonding adventure which is guaranteed to give the groom a memorable send-off into the IKEA infested world of marital life. It's time to grab the bull by the horns and these high-powered beasts by the wheel and give him one final heart-racing, adrenaline-pumping farewell before he settles down once and for all. What are you waiting for, enquire today!