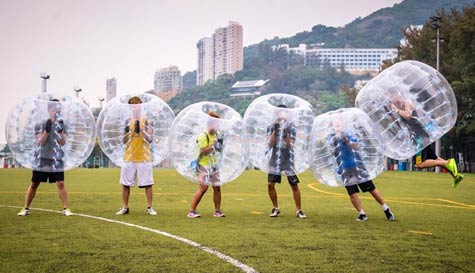 So the groom thinks he's got some tekkers? His cousin reckons he's Messi with a brummie accent? And the groomsmen all think they should be playing for England?
"Release the balls!"
No matter how much guff the guys might come out with about their own sporting prowess, our Benidorm bubble football stag party will knock all that out of the stadium;
First and foremost bubble football is about laughs
Secondly, it's about carnage, bumping and barging the other team off the ball
And thirdly it's about being about to play really quick, pinpoint shots and passes...
Before you get flattened
As stag activities go (and we've seen hundreds) there is nothing that compares to bubble football for sheer laughs, sporting challenge and lunacy. It's utterly brilliant and totally bonkers making it the ideal choice for stags who love football, can play a bit and aren't afraid of a bit of hard-hitting action.
The session will begin by picking teams (obviously much funnier if both captains have already agreed to leave the groom until last). The ref will then explain the rules to both teams before you dive into your bubble suits. The bubbles are specially strengthened to take on the toughest hits, even Luis Suarez couldn't chew through them. Once everyone has kitted up its game on! The idea is to bump, barge and bully the opposition while managing to belt in a few goals. This is proper sporting carnage and bubble football is sure to be the highlight of your Benidorm stag do.