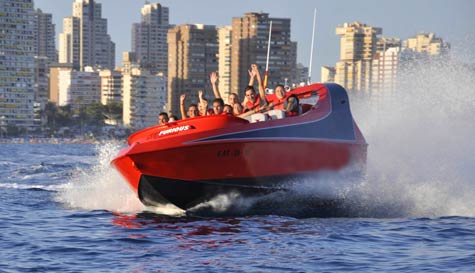 "Roads, where we're going we don't need roads..." Actually you really don't, this kind of horsepower is purely nautical and 100% brutal.
If you've never been in a jet boat before then you're in for a serious shock to the system. Our Benidorm stag party jet boat adventure is definitely not for the faint-hearted as you'll be travelling at roughly 'Waaaaaaaaarrrrgh!!!' miles an hour in what is possibly the most brutal hangover cure known to stag-kind.
You'll meet your pilot who'll help all the guys get kitted up with life-vests. Then help you all aboard and fire up the giant 450 horsepower engine. The jet works by pulling in vast amounts of water and fires them out the end to give the boat thrust. The bow is designed to sit up and cut through waves while the hull is designed to give lift and get over the water. That awesome combination is a boat that bounces through and over waves at incredibly high speeds, the other joy of jet boats is just how quick they turn with is approximately ****ing fast.
Jet boats are essentially the Tasmanian Devil of the boating world, fast, hungry, aggressive and at times unstoppable. With an expert pilot behind the wheel, you and the guys will are in for the mother of stag party boat rides. "Hold on riders, scream for speed!"