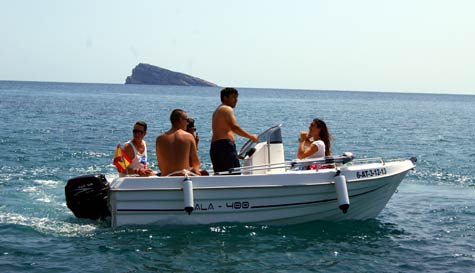 This…. Is… Cool!
Here at StagWeb HQ we get to do some pretty cool stuff, but these mini Benidorm bad boys are definitely in our top 10 cool things to do on the planet. You and the guys, chilling out on your own funky speedboats, enjoying the sun, working on those wedding tans, cooling off in the crystal-clear Mediterranean waters. Life rarely gets sweeter than this.
The boats themselves are really easy to handle, they have a single outboard engine which works on a handle throttle (like a motorbike) and have just two gears, forwards or backwards. Let's clear one thing up, "speedboats" is a relative term; these aren't powerboats, you won't be getting big air. But you can hit speeds of 14 knots (that's 26kph or 16 mph for the non-nautical among you), which feels pretty fast the first time you take the controls.
The boats are already filled with petrol, all you need to do us point them in the direction you want to go, and go! There's even an anchor so you can stop the boat and head overboard to cool off in the Mediterranean. With two or four hour hire that's plenty of time to get across to nearby Peacock Island to go and do some exploration away from the mainland or the superb Albir Bay. Or you can just go out and scope all the amazing playboy yachts of Benidorm's rich and famous. And with the guys split up into separate boats, you'll have your own little armada (although it's probably best not to mention the armada in front of any Spanish sailors).
You can take your own drinks aboard (no glass and always respect the sea by disposing of any rubbish back on land). And make sure you punish any stags that start talking like a pirate, there's no excuse for that kind of behaviour!
Please note; You'll need ID and a refundable €100 deposit.