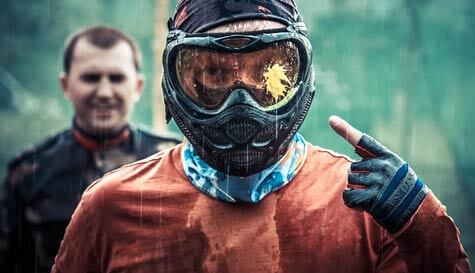 Our Benidorm stag party paintball really will separate the stags from the boys. Paintball is without doubt one of the all-time classic stag party activities and it's easy to see why, where else can you get kitted up in combat gear, run through woodland like extras from "Lord of the Flies" and shoot your best mates in the gentlemen vegetables? Repeatedly?

But this isn't your average UK paintball, for one thing, you won't have to lie face down in a muddy trench to avoid getting an emulsion overcoat. A day of usually great weather will begin in an open-top jeep ride from your accommodation to the field of battle. Once there the stags will have a quick safety briefing and be shown how to use the state-of-the-art weaponry. The guns are semi-automatic and each stag will be issued with 100 rounds of ammo, trigger happy stags can purchase more paintballs throughout the session.

It's then time to get your games faces on...
"To fight a war you gotta become war" - John Rambo
"Johnny love, your tea's ready!" - Rambo's Mum
Once you're kitted up and the teams have been picked you'll enter the field of conflict, it's a last chance to exchange any smack talk with your opponents before you start plotting their downfall. There's no point going rogue, paintball is all about teamwork and great tactics. Mostly on this occasion, it's about making sure the groom gets a complete paint job. You'll find a few great tips and pranks here.
This is a brilliant activity that will get all the stags fully immersed in the art of stag party warfare. At the end of the day, you might want to relax back around the pool and re-live your tales of heroics, while sending the losers to go and fetch another round of drinks for their victors.
One thing you can be sure of, it's going to be emulsional.