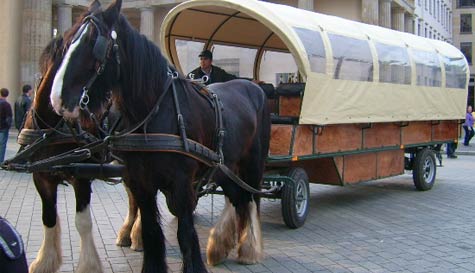 A stag do often throws up one curious dilemma; you're in a new city so want to take in some of the sights, but that means leaving the pub... What is a stag to do?!?

Well thanks to StagWeb that problem is now a thing of the past. You can jump aboard our stag party beer coach, this fantastic vintage coach and horse comes fully equipped with 20 litres of Germany's finest export for you to enjoy as you tour this amazing city.

Berlin was central to some of the most incredible events of the 20th century, from the 1936 Olympic Games, fall of the Nazi's to the fall of the Berlin Wall (and of course David Hasselhoff grabbing his leather trousers and belting out a few of his classic tunes) and plenty more besides.

The experienced coach driver/guide will be able to answer questions or you can just enjoy the ride and the beers and just share some typical pub banter with the guys.

If you're feeling a bit more energetic you can try the Berlin Beer Bike.

The coach holds a maximum of 20 stags and you'll need a minimum of 6 in your group. The tours can vary in length depending on how long you want to enjoy the ride (and how long you take to drink the beer), with 60, 90, or 120 minute tours available.