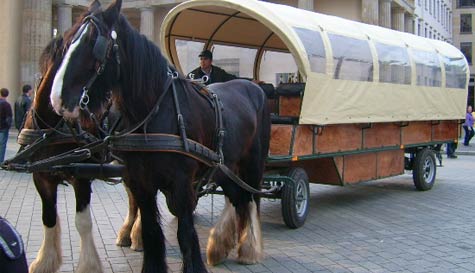 A stag do often throws up one curious dilemma: you're in a new city and you want to get out and about, but that means leaving the pub... What is a stag to do?!?

Well, thanks to StagWeb that problem is a thing of the past. You can now jump aboard our Beer Coach and take to the streets. This fantastically vintage horse-drawn coach comes fully equipped with 30 litres of Germany's finest export for you to enjoy as you cruise around Berlin stag-style.
You'll head to a meeting point in the centre of the city where you'll greet your diver and hop aboard. You'll then head off as you and the boys kick back with some ice-cold beers and typical pub banter.
Yes, gents, what better way to throw a little culture into the mix than heading out and about on a horse-drawn coach. "No, dear, we didn't spend all weekend in the pub, we took a little trip on a horse-drawn carriage, actually!"

The coach holds a maximum of 24 stags and you'll need a minimum of 6 in your group. The tour will last around 2 hours. Berlin is one of the finest stag do destinations on the planet and if you're going to head there to give the groom that epic send-off he well and truly deserves, you may as well do it in style. The Berlin Beer Coach is a brilliantly unique activity that is bound to go down a storm with the rest of the stags.
If you're feeling a bit more energetic you can try the Berlin Beer Bike instead where you'll hop aboard your very own pedal-powered pub!