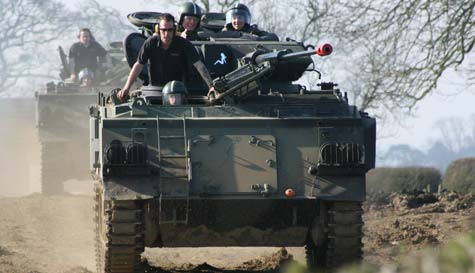 We know stags that have raced go-karts. And that's cool. Some guys take on mud buggies and we salute them. Fancy driving schools, with £100K supercars, yeah, if that turns you on. But real men? Real men race tanks!
Here at StagWeb HQ we have raced pretty much every vehicle on the planet. If it has wheels and can be steered, then we've raced it. But there is nothing, NOTHING cooler than racing a tank. It's the greatest cure for road rage ever.
Had a crap day at work
Got flashed by a speed camera
Being suffocated by your weekly commute
Have developed an overwhelming hatred of caravans
It doesn't matter anymore... You're driving a tank!
The other awesome thing with a tank is just how powerful it feels. "Oh, you've got a shiny Range Rover? Ooh, tough guy... I'M IN A TANK!"
Once you've finished being awed by the immense feeling of power and possibility ("If I had this next time I'm on the M25...") you'll then listen up to the instructor who'll teach you all the controls so you can all drive the beast. You'll then take it in turns to go up against the obstacle course. The rest of the guys will sit upon the sun deck and take the **** out of your driving. It's quite simply the best driving test on the planet!
It's also a great setting to get some amazing stag photos as you find out just who among the stags is the champion driver. Forget F1, this is the most amazing racing rivalry of them all.
Car crushing is also available, please ask our team for more details.