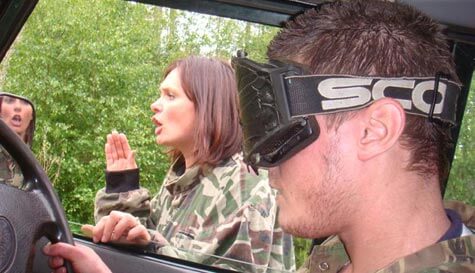 This is your very own Top Gear challenge (without offending Mexico, getting run out of Argentina or punching any producers) where you'll be working in teams to show off your complete driving prowess, intelligence and teamwork.

The basic premise is simple; drive around the off-road track in the shortest time possible while picking up as few penalty points as possible. Penalties will be added to your team's combined laps. The team with the lowest score will win. That part is all simple.

However... The clues are in the title, 'Birmingham Blindfold Driving' will require the driver to be blindfolded while his team/passengers give him directions and instructions to best navigate the course. That does mean with the amount of backseat driving and the fact that one of you can't see a bloody thing, there will be hilarious consequences. Not for you sadly, you'll be busy trying not to look like complete numpties, but the watching teams will be laughing and cheering at your every mistake.

So not only is the brilliant fun to do and a great stag competition, but our Birmingham blindfold driving will also get plenty of banter flying between the lads.

Blindfold driving works best as part of a set of action-packed stag activities. Ask our team for more details.

This activity takes place on an awesome multi-activity site and is great combined with other events, such as; Clay Shooting, Quad Bike Racing, Segway Racing or Blindfold Driving. Please speak to a member of the team for more details.