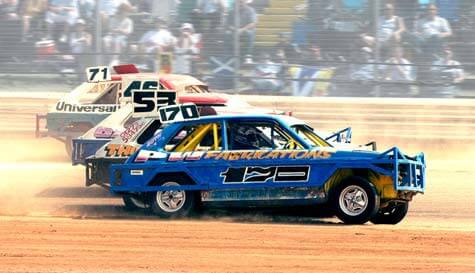 While go-karts, quad bikes and track days are indeed fantastic stag do events, Extreme Dodgems really is the ultimate in hardcore stag racing and the pinnacle of racing activities in general.

There are no half measures; this is real motor racing in heavy metal saloon stock cars, complete with commentators and trophies! This is genuine motorsport in race-prepared cars, with at least two highly competitive, adrenaline-pumping racing heats and a winner-takes-all championship final! That means you have the perfect opportunity to go head-to-head with your mates and find out once-and-for-all who is the main man behind the wheel!

Fans of Top Gear will get a chance to take on their own high-speed challenge, though you won't need to escort truffles across continents or face being lynched by a group of angry Argentineans. But you will be able to chase down the groom as you go wheel to wheel, all out for the win.

All extreme dodgem's competitors receive a souvenir programme with their name in it. Event winners receive trophies. The extreme dodgems track is 330m long, providing the ultimate driver's arena.

This incredible event is the very real opportunity to drive track-prepared 1300cc saloon stock cars. During the event, clients will be coached by professional drivers and officials. From that point on it's pedal to the metal as the winner takes all (and the loser pays a forfeit!).