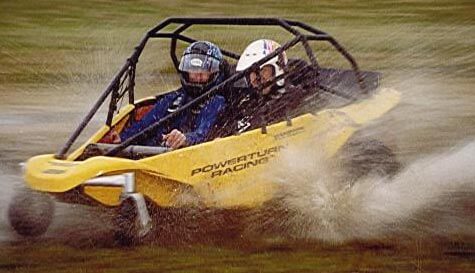 In off-road conditions, controlling a four-wheeled petrol guzzling vehicle can be difficult as it is...so putting two (possibly hungover) stags in the driver's seat, each with the ability to turn their set of wheels in any direction they please is surely a bonkers idea?!?
Well, backseat drivers can rejoice as our Birmingham stag party powerturns experience gives you the chance to wrestle the steering from one of your best mates, although you'll have to work together if you're going to dominate this tricky off-road course.
These powerturn buggies are possibly unlike anything you've driven before. For one, they don't have a steering wheel, and secondly, they don't have pedals. Instead, these freewheeling bad boys rely on your control of two levers, making teamwork and (often sweary) communication essential unless you fancy watching yourselves spin around in circles while your best mates jeer on from the side-lines.
That being said, it's incredibly tempting to just see what kind of epic tricks you can do, and oh yes, these buggies can pull some impressive stunts if you know how to use them. Don't be surprised to see some awesome doughnuts, wheelies (even around corners) and the kind of drifts that'd make the Fast and Furious crew give you the nod of approval.
For unusual motoring thrills and laughs to make the groom forget about months of often-stressful wedding planning, our Birmingham stag party powerturns can be a top-drawer activity. It's a great way to escape the city for a day, and let's be honest, who doesn't want to see the nearly-wed being thrown around the track in a pink tutu?