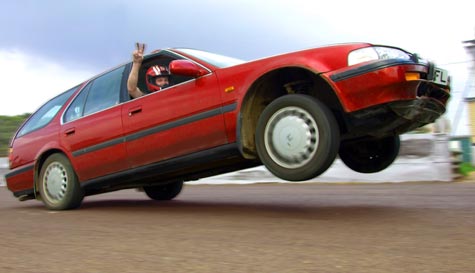 There's a reason our Birmingham stunt driving activity is so popular: it's epic! Get the lads together and give the petrol head groom a gigantic grin with this action-packed, high-speed session of Fast and Furious stunt driving carnage!

Forget Vin Diesel and Steve McQueen, this is the real deal! The boys will learn a massive range of awesome stunt driving skills from our expert stunt driving instructors, from handbrake turn mastery and car chase manoeuvres to fast-paced shoot outs and wacky double-decker car driving. It doesn't matter that you'll probably never need to use them out in the real world - these are some serious stag skills you'll be boasting about for years to come!

Your day will include the following high octane activities:

Handbrake Masterclass - An absolute must, every decent car chase has one, it's as cool as a cucumber but also a very macho auto-stunt manoeuvre, and with our expert instruction you'll get to grips with it in no time.

Double Decker Chaos - Forget buses! Imagine two cars, one on the roof of the other... The driver in the top car controls the steering, the one in the bottom handles the footwork - barking mad, fantastic fun that you'll likely never do again!

Car Chase J-Turn Challenge - You've mastered the handbrake turn, now it's time to take things up a gear. Learn how to perform the coolest trick in the book and throw your car out of a high-speed reverse for a 007 inspired getaway.

The Push-Me, Pull-You - Two engines, two steering wheels and plenty of 'tude. Will you be able to handle the "Push-Me, Pull-You" car?