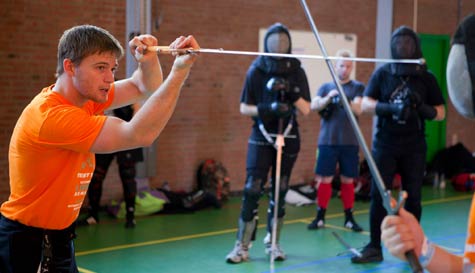 In our amazing stag party sword fighting workshop you and the guys will step back in time to the 14th century when no man of honour would ever be found without a sword.
This isn't stage combat, or re-enactment stuff, this is genuine sword fighting as taken from the manuscripts of Italian knight and master swordsman Fiore Dei Liberi entitled Fior di Battaglia, Flower of Battle and Il Flos Duellatorum.
You'll learn ancient HEMA (Historical European Martial Arts). You'll learn about the differences between the types of sword, basic sword handling and then the specialised moves used in combat.
Thrust
Cut
Parry
Riposte
Close
Lunge
Block
The weapons you'll be working with will be hand and long swords, weapons used by knights of the middle ages. These are also weapons with a great lineage, only the richest men could afford fine blades, marking you as true European warriors.
The stag sword fighting session will then move on to interlinked techniques as used in battle. Once ready, you'll face each in combat two see who is the weekends true "Lord of the Thrust!" (it's a type of sword move, we're not talking about your...).
It's time for a Game of Stags who will prove to be the Lord of the Stags in a true fight to the death pub.