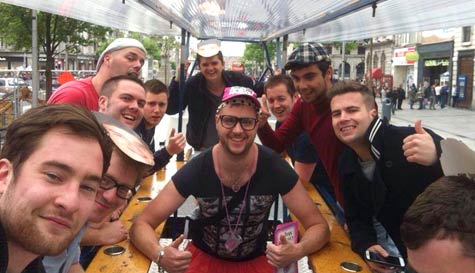 Hey, if you want to be boring you wouldn't be going to Blackpool, one of the greatest party cities in the UK. So if you're going, go in style and that means a Bar Crawl Bike. This funky pint powered mode of transport is the only way to travel while on a stag weekend.
If you've never had the pleasure, a Bar Crawl Bike is a large bike where all the pedals are built around a bar. You're all facing in so you can talk and laugh while you pedal. The groom (being the lightweight that he is) can enjoy VIP privileges with a bench with no pedals.
The action begins with pick-up at a seafront hotel, it's then pedals to the metal as you jump on the padded seats and power along the seafront, waving at the tourists and onlookers as you go. You'll certainly turn heads, as not only will you be looking cool, but the bike also sounds cool with its sound system and lights. It even has a dancefloor! Yes, it just got even cooler!
You can even plug in your own tunes so you can get organised and download a stag party playlist before you set off (keep the songs clean, you'll be in hearing shot of families as you cruise along). During the ride you'll stop off at two pubs, drawing admiring looks from other drinkers as you rock up aboard your giant party bike.
The party bike is essentially one man's dream. Probably after a few drinks he tried to come up with what would be the funkiest way for a stag party to travel and the Pub Crawl Bike was the result. It works on so many levels but mostly as somewhere to take the p*** out of the groom. You can give him a special outfit to wear and make him dance as you tour the promenade. Because that's how you roll.
The bike has a driver/guide and also water on board to keep you hydrated between pubs.