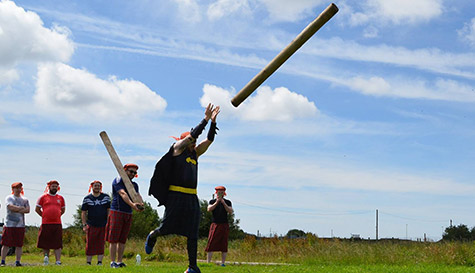 If you're looking for something brilliantly different, hugely competitive and seriously manly then it doesn't get better than the Highland games. In fact, it's so manly you can almost feel your beard growing just by saying the words "Highland Games". It's man stripped back to the very basics; height, speed, accuracy, and of course the ability to wear a skirt.
Hold on! Yeah, you read that right, in true Scots fashion, all the guys will be given kilts to wear in traditional Highland style. Each stag will also be issued with a hat and wig just to add a touch more authenticity. Once everyone is kilted up you'll be split into teams, it's then time to get your game faces and wigs on because things are about to get serious!
In between throwing banter at the other teams and taking selfies of your Highland look (you really will be able to get some brilliant stag team photos of all the guys so have your phones/cameras handy) you'll be battling it out in a series of games, each one slightly weirder and funnier than the last. Although it's not the taking part that counts, it's the listening to the opposing team putting you off and then slagging you off with their attempt at stag party smack talk. Events you'll be undertaking include:
Tug of War
Welly Wanging
Farmer's Dash
Tossing the Caber
Tyre Flipping
Putting the Stone
and more!
This is an exclusive event, you won't be pitted against other teams, this is exclusively for your group of stags so you can play as dirty as you like (within reason) to ensure your team take victory.
Marshals will run the show, explaining the games and doing their best to ensure fair play. Their decision is absolute, they must be listened to and respected at all times (this isn't the Premier League, this is real sport!).
So get those brave hearts ready and prepare for battle!