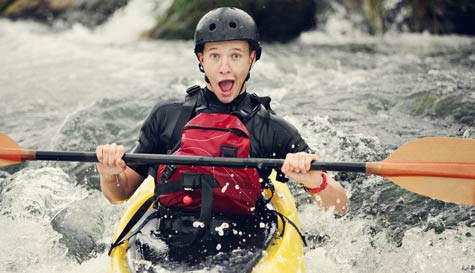 On paper, stag partying kayaking in Blackpool might not look as exciting as jetskis but in reality, it's awesome!
You and the guys will be hitting the water on something that takes a whole lot more balance and skill than jet skis and because of your proximity to the rest of the guys, there's so much more opportunity for great banter.
One of the other fantastic things with kayaking is that it feels primal, men have been paddling small waterborne craft for millennia, it's one of those basic skills that every man should master at in his lifetime (it ranks up there with being able to change a tyre, build a campfire and do a Cruyff turn). This is a fantastic site to learn and there is just something that feels natural about gliding over the water, perhaps the fact that this is essentially such a primitive form of transport appeals to your inner bloke, the part of your identity that eats steak, has a thirst for beer and has a natural dislike of Strictly Come Dancing.
Our Blackpool stag party kayaking is really easy to learn but actually very hard to master. By that, we mean any numpty can leap on a kayak and learn how to paddle in a relatively straight line in next to no time. But to get really good at it takes some practice, sporty stags will pick it up fairly quickly and then you'll try mastering fast turns, how to stop instantly. And there will be some (many) of you who will love this and soon be investing in your own craft when you get home. It really is that addictive.
The site also has a great cafe and bar you can enjoy after your session. And remember, this is Blackpool, so make sure you bring something warm and dry to change into, plus you can hire wetsuits for just £3 which is money well spent.