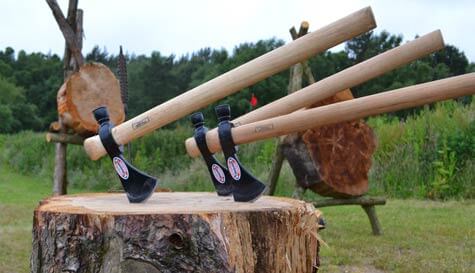 OK, so darts is fun but it's not exactly "deadly". No, if you want a serious activity that will mix a bit of sporting competition with lethal weaponry then this is for you.

You'll be taught exactly how to throw knives and tomahawks with deadly accuracy and then slug it out in a mass brawl (well actually its more of a politely organised competition but slug it out you will) as you compete to see who has the best aim, most skill and should be crowned the King Viking among your merry band of hardened stag warriors.

Ensuring the groom appears in his wedding photos with the correct numbers of digits and/or ears is a primary concern so while we might joke, the knives and tomahawks are specially sharpened and so health and safety is taken very seriously. With this in mind, participants must be over 16, any stags who are clearly still suffering any effects of alcohol will not be permitted to take part and all the stags must sign a waiver before the activity commences. However, once all the H&S has been observed then you're in for a cracking session in which you'll soon start dreaming up entirely new ways of carving the turkey for the Christmas dinner ("Ready... aim... fire!").

The weapons you'll be competing with are throwing knives and Native American style tomahawks. The knives are perfectly designed and balanced to rotate in the air while creating very little air resistance. The basic shape of the knives is similar to that used by stage performers and special forces. The tomahawks are based on those used by Native American tribesmen when hunting or fighting and mix fast, accurate delivering with great aerodynamics meaning the axes are despatched with deadly force.

So forget pub darts, if you want a real sporting challenge get properly tooled up.