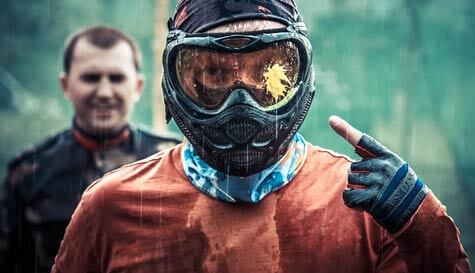 Paintball is still one of the most popular stag activities of all time and the reason is simple... Its EPIC! Where else can you actually point guns at your best mates and pull the trigger? While the lads might think they're a bit tough in front of a TV screen, just how will they cope once the paint starts flying on a real Call of Duty?
And our Blackpool stag party paintball site is superb. You'll receive a full package of paintball kit, weaponry and refreshment:
Dutch-style chemical warfare suit
Paintball mask
Battle pack to carry extra paintballs
Paintball gun
Unlimited air refills throughout the day
100 paintballs to get you started
Free tea, coffee & water
Your elite squad of stag commandos (!?!) will face a number of different game scenarios including;
Capture the Flag
Team Kill
RTA (Road Traffic Accident)
Wall of Death
Stag Kill
In between each battle you'll be escorted to the safe area on site where you'll find drinking water, seats and cloths to clean masks.
Make Your Mark
Of course you don't want to forget that it's the groom's big weekend, it could be terrible if he were to just fade into the background during the Blackpool stag party paintball so why not bring along fancy dress or perhaps hi-viz clothing for him to wear?