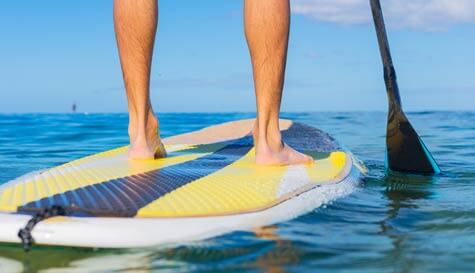 For those of you that have never seen our Blackpool stag do stand-up paddleboarding before imagine standing on a surfboard with a long paddle and then propelling yourself through the water like a Venetian gondolier... That's pretty much it. Except it just looks so cool!
The strict origins of SUP seem to trace back to Hawaii, a place where they really know how to look cool on the beach and this is without question one of the coolest beach sports ever. Firstly there's the racing element. You and your fellow stags can line up your Blackpool stag do paddleboards and set your own race. We'd advise you agree on prizes and forfeits beforehand so that any stags that end up in the water during the race pay a suitable stag penalty for their sheer 'numptiness'.
The next thing is, paddle boarding just looks so utterly cool. Lazily skimming over the water, on a sunny day you can just picture yourself ghosting along Waikiki Beach, a few cans of beer at your feet as you head to a beach BBQ. In fact, it's very difficult not to feel really cool when doing SUP.
As well as the brilliant activity there is also a handy bar and cafe so all the guys can get well fed and get a few drinks after the activity before the short journey back to town.
Your session will start with a quick introduction and safety briefing from our team, you'll then learn the basic stuff on dry land before leaping onto the boards (although to be honest leaping is a fast route to capsizing). You will need to wear beachwear and bring towels but we'd advise hiring wetsuits (just £3) as Blackpool can get a bit nippy.