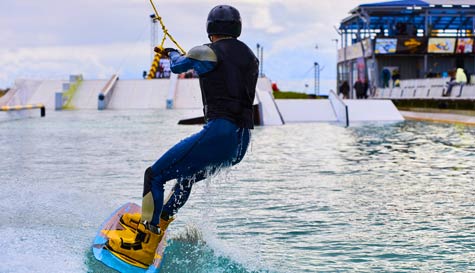 Wakeboarding is surfing's angrier, edgier younger brother. Where surfing is fairly laid back and cool, wakeboarding is fast, intense, and, well, cooler. The equipment is similar to that of surfboarding, with one crucial difference - the speed boat. Or, as it is in Blackpool, a motorised wire yanking you and the lads across the surface of a lake at high velocity, giving you the opportunity to try all sorts of high-speed flips and tricks... or fall in, who are we to judge?

The adrenaline-fuelled nature of wakeboarding makes it a great choice for a stag do, letting the lads try something new while indulging their thrill-seeking side. It's not just an adrenaline-fest; it's also a lot of fun. Watching your mate take an impromptu plunge into the lake is guaranteed to make the day of pretty much every stag present, apart from the one in the water!

Blackpool is the perfect place to try something like wakeboarding. The facilities are of the highest quality, and they're seriously high tech; There's a 10-acre lake formed from a natural spring, with floating obstacles and two fancy new straight-line cable systems here for the best wakeboarding action around.

Wakeboarding could be the standout activity of your weekend. This is wet, wild and come on, be honest, who doesn't want to see the nearly-wed take a dunk in the lake?