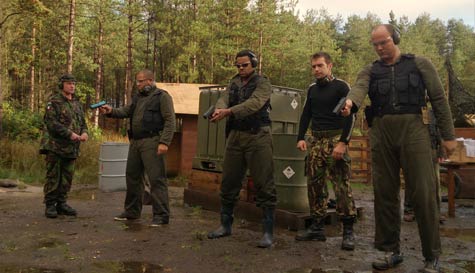 Sometimes you've just got to separate the stags from the boys. This ultra realistic Special Forces training session will see the stags take on the mission of a close protection squad. This seriously is a bad-ass outdoor combat session with adrenalin-pumping action, utilising state-of-the-art Airsoft weaponry, explosive pyrotechnics and effects.

En route to becoming fully fledged elite bodyguards your morning will consist of a series of comprehensive weapons and tactical training
Introduction to close protection operations.
Weapons training
Practical weapons test.
Range session and close quarters marksmanship.
Quick-draw and instinctive shooting.
Close protection foot patrol formations.
Principles of bodyguarding.
The training is not just to prepare you for your mission but also designed to push you to your limits to see if you really have what it takes to make the next step up.

Lunch will be provided to give you a breather and assess your progress. Once the instructors are satisfied you can cut the mustard (and protect the mustard), you'll be assigned a V.I.P. to protect on a series of heart-thumping missions.

The day's itinerary includes lunch and unlimited hot and cold drinks.

Please note: This really is a full on day and not for the feint-hearted. Attendees should be aware that the course is physically demanding and should not be attempted by anyone with a heart condition.