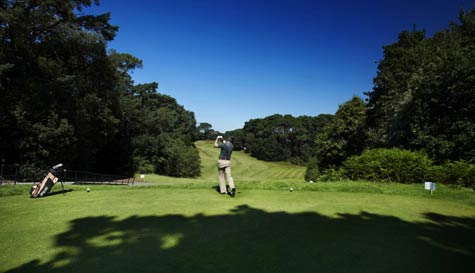 Playing a few rounds of golf on a Bournemouth stag do is the perfect morning activity to shake off last nights antics and clear your head. Our golf stag party in Bournemouth is one of the very best places you can try this out for yourself on your big weekend. We've chosen the very best golf course in Bournemouth for you to putt around, with 18 holes and the title of Bournemouth's top golf course you'll be taking on the challenge of a proper golfing experience. This is no pitch and putt.

After a quick drink in the bar if you're one of those brave 'hair of the dog' types, you and the boys will head out on the complete golfing challenge. Taking on 18 fantastic holes that'll require all the skill you've got with your various clubs as you try to beat your mates to the title of stag golfing champion. With various troubling terrains like rough patches and sand pits, it won't be as easy as just hitting the thing though. You'll have to really focus in order to hit the best shots.

Our golf stag party is a top way of kicking off a day of stag-insanity or winding down in the afternoon before getting ready to hit the town again where the only thing you'll be thinking about is the one in your face, and how much beer you're chucking down it!