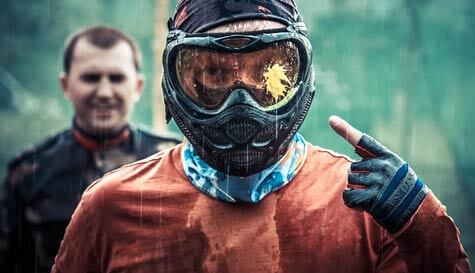 There's a reason paintballing is one of our most popular activities: it's epic! Sprinting around with your mates, shooting each other and imagining you are in your favourite 80s action movie never loses its charm, and our Bournemouth indoor paintball centre is the perfect place to try out this sure-fire stag winner.

With its post-apocalyptic styling and its massive variety of obstacles, purpose-built structures and game types, our facility has atmosphere by the bucket load. Add to that the intensifying effects of indoor paintballing where shots are louder and pyrotechnics are more devastating, and you've got all the makings for a combat experience that's as convincing as you'd ever want it to be.

The indoor arena includes a central bridge, a military checkpoint, 2 storey buildings, abandoned vehicles and an entire urban jungle for you to fight your way through; it's a strategists dream come true. With sniper nests, hosts of useable buildings, crawl spaces and windows to make use of over the duration of your paintball session, ambushes are to be expected.

If you fancy stitching the groom up, bring along a hi-viz waistcoat for him to don throughout the session so he doesn't go missing in action (it's as much for his safety as it is for your enjoyment); it won't be hard to find him when all hell breaks loose.