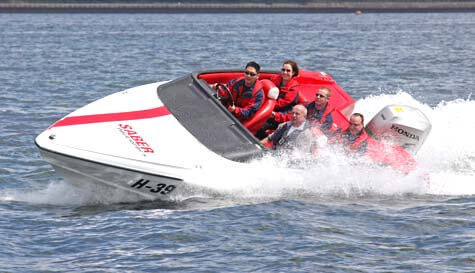 In terms of pushing the boat out for the ultimate Bournemouth stag weekend, the once in a lifetime high octane thrill of our Bournemouth powerboats experience is not to be missed! It's one of the fiercest, most adrenalin-fuelled, heart-thumping activities you and the lads could come across.

On arrival, you'll be suited up with your full body wet suit and safety equipment before making your way down to the boats for a quick safety briefing. You'll then make your way out to the offset rectangular circuit where you will be shown how to safely take the powerboat into a corner, and then it's onto the racing.

Each person will complete 3 laps with the last two being timed against the clock. Once everybody has been out you'll head back to shore for a quick debriefing and prize-giving ceremony, the perfect opportunity to take some pictures and laugh about the best wipeouts. We'd suggest heading to the pub after so the losers can show their humility by buying the powerboat champion a few drinks.

Our specialist powerboats are Honda racing crafts with 2.4-litre VTEC engines capable of reaching staggering speeds on straights and turning on a sixpence. They are designed to be light and insanely agile allowing you to throw them into corners and really push your nerves to the edge. Lads, hold on tight, your wet and wild weekend is about to take off.