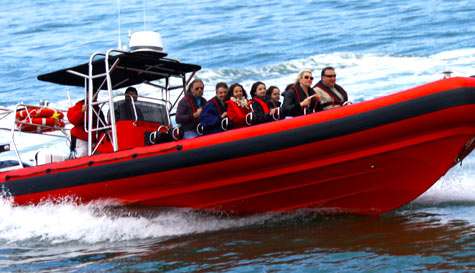 On our Bournemouth stag party ribbing, you and the boys will discover what happens when a high-speed power boat takes on the choppy waters of the Jurassic Coast at full-throttle. This is an action-packed, wet and wild adventure that will more than supply your adrenaline fix for the weekend as you're taken on a white-knuckle tour by an experienced skipper who we really hope doesn't drive on the road like he does on the water.
After meeting your pilot in a quayside pub/cafe ("Quick half before we get ship-shape? Don't mind if I do..."), you'll get kitted up in life-vests before boarding the awesomely powerful vessel. These power-boats are to water what a monster truck is to land; they're big, fast, and they seriously don't give a damn about the obstacles Mother Nature throws in their direction.
Preena-donnas will be able to say one last goodbye to their perfectly shaped barnets during the relaxed journey out of the harbour but once you hit open water, the real ride will begin. Put your hands in the air and prepare for an epic thrill-ride on the ocean blue packed with sharp U-turns, awesome jumps and hair-raising twists as you travel at roughly "Waaaarrrghhhh!" miles an hour.
Bournemouth stag party ribbing is a fast and furious way to guarantee some adrenaline-pumping action while adding a bit of culture to your big weekend, if being able to say, "Oh look, the Jurassic Coast" counts as being cultural? The groom will undoubtedly leave this high-speed vessel soaking wet... although the same will probably be said of the rest of his stags!