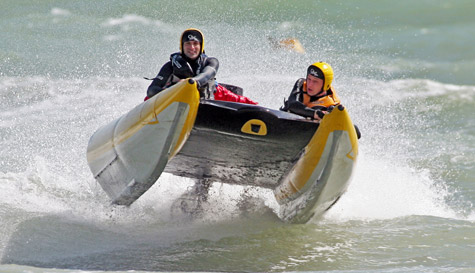 Bournemouth is a perfect place for an action-packed stag do; renowned as the pride of the South Coast, the town epitomises the sun-drenched, fun-loving summer beach culture all Brits aspire to. It's also an amazing destination for those who like their thrill-seeking on the waves. Lucky for you, we have found this awesome all-action water package that will blow you away!

Zap cats are small but amazingly light and powerful catamaran surf racing boats with huge engines. Essentially, they are the Tasmanian devils of water sports and it won't take long for you to realise why. The rib boats offer a (slightly) more relaxed dose of white water action and will stir up plenty of surf for the zap cat crew to launch off!

Loud, angry, hard to master and ever so slightly mad, you'll be shown what they're capable off with a pro at the wheel. There's no such thing as an easy ride in these wave hopping bad boys as the pilots will aim for the waves to give you maximum air. Hit 50 miles per hour and endure 3G forces through the turns in these nippy seafaring monsters!