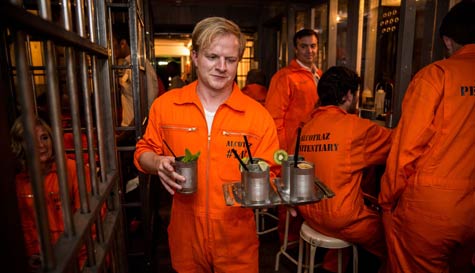 This here is Alcatraz, one of the most infamous and dangerous prisons of all time. It held inmates such as Al Capone, 'Machine Gun' Kelly, 'Doc' Barker, James Whitey Bulger and Robert Stroud, the Birdman of Alcatraz. And now you boys will be calling it 'home'.
Welcome to the Rock.
Ain't no way off Alcatraz unless you think you can swim across the bay. Even if the guard's bullets don't get you, it's one and a half miles of icy cold water and treacherous currents. You can forget it. You fresh fish are here to stay so make yourselves at home but remember to play nice.
As the door slams shut behind you and you're given your orange prison jumpsuit the future might look pretty bleak…. At least it would do if you hadn't smuggled in bottles of spirits with you like the party boys you are. Well, just because you're in prison it doesn't mean you shouldn't have a laugh!
You'll be assigned to cells, depending on your group size you might be put into adjacent cells. You'll have to hide your booze from the warden with the help of some crooked guards, acting out a story as the evening goes on.
You'll take your booze to one of your fellow inmates who will whip up unique cocktails with the bottles you bring (we recommend 35cl per two guests). This is no fancy London cocktail bar and the drinks will depend on what you bring and will be served out of tin cans so the warden doesn't suspect there's hooch inside his prison.
Fully immersive and brilliant fun you'll soon be adapting to prison life or maybe you'll already be plotting your escape? Although just maybe those guards are smarter than you think… Nah, probably not.