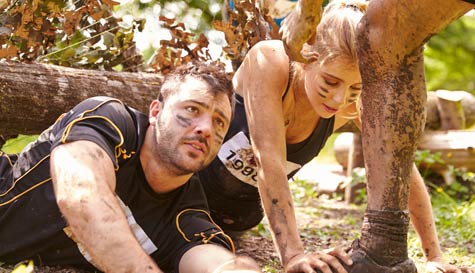 "Come and have a go if you think you're hard enough!"
Any good stag do requires a few basic components, plenty of laughs, great mates and some serious/hilarious sporting action. Our Brighton stag party assault course delivers all of the above and more.
You can lay down the gauntlet for your fellow stags over this epic course which is designed to separate the stags from the boys. You'll be lining up with a will to win (or at least not come in last) over a series of superb obstacles including;
40ft scramble net
Burma bridge
Straight sprints
Rope swing
Wall climb
Water jumps
and more...
Set in the heart of the stunning Sussex countryside the course itself is no pretty picture. Its gritty, tough and designed to really sap the legs of any stags who think they're up to the challenge.
You can place your bets before the race begins or set stag forfeits for those stags that trail in last. The winner on the other hand will cover himself in glory as well as being able to claim bragging rights over his fellow stags. All's fair in love and stag dos.
This is a man-sized challenge that isn't for the fainthearted but adventure loving stags really will be able to get stuck in to an epic challenge that will pit the stags against each other and push the groom to the limits.
WHY NOT ADD...
You can also build a full day of action by adding other activities that are all available at this epic site.