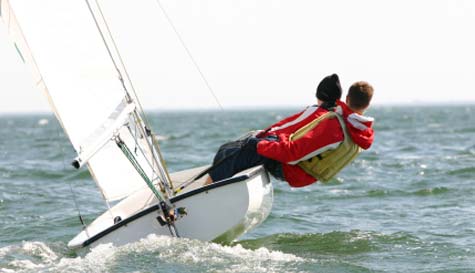 Dinghies? They're just those inflatable yellow boat things that your Dad used to climb into on a beach holiday, he'd sleep all day and end up burning his 'six-pack' (we all know it's more of a barrel, but the 'dad bod' is apparently back in fashion so he can't complain) what's the point in racing them?

If the above is your response to the name of 'dinghy sailing' then, well, you don't know any better yet, so we won't blame you. But know that if it's epic water sports action you're looking for on your stag party, then our dinghy sailing activity in Brighton will thrill you and the lads to the max as you set off on boats that couldn't be further away from the type of dinghy that you can blow up in thirty minutes down the beach.

These are the real, water racing deal. Featuring large 16ft wayfarers that'll take two or three of you to master as you cut through Brighton's challenging waters. You could be climbing in a few different models that include the Iso, Laser 300, 420, Topper, Pico, Laser and the Optimist. As you can see, this activity seeks to offer you and the boys the complete dinghy sailing experience.

After having a little bit of instruction from your experienced tutor, you'll have to manage your boat with two other stags to dominate the water and become stag dingy sailing champions when you race the rest of the boys in white-knuckle boating action that's sure to create big laughs and even bigger thrills.

If it's watersports action you're after on your Brighton stag weekend, you couldn't do much better. Plus there's always the chance that the groom will end up falling in the water, and you wouldn't want to miss that...