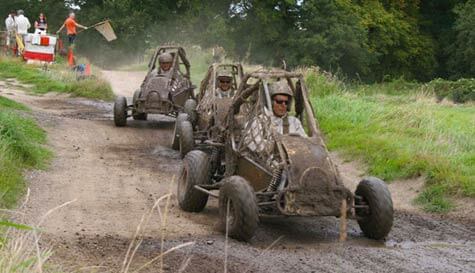 Forget go karting, if you want to take your Brighton stag do to the next level then jump into the hot seat of these amazing 400cc mud buggies. Fitted with off-road tyres, roll cages and safety harnesses these superb machines are ferocious. They'll literally eat up any ground or obstacle you point them at, however in the interests and safety (and getting the groom home in one piece) we'd ask you to try and keep them shiny side up at all times.

However, they won't stay shiny for long and neither will you. You'll each be kitted up in a protective suit, helmet, gloves and shoe covers in an attempt to keep the worst of the mud off the groom's "do". But there really is no time for prima donnas, this is down and dirty racing that will definitely separate the stags from the boys.

The automatic karts are really simple to drive, the right pedal gives it the juice and sends you hurtling down the course, the left pedal, well apparently that's the brake but you won't be using that much.

You'll face a series of heats as you battle it out wheel to wheel with your fellow stags over this specially designed course. Hairpin turns, bumps, jumps, burms and mud traps all lay in wait for you and you can expect to get covered in mud. Each stag will ride four times and get to try each of the karts to keep things fair.

Four karts will race at a time giving the rest of the stags time to watch and shout words of encouragement (or simply tell it like it is!). The four fastest drivers will go through to the final with a podium lager spraying finish with medals for the top three drivers.
WHY NOT ADD...
Double your fun with a great deal when you add a second stag vs stag activity at this site.
Get an excellent rate on each extra activity. Ask our team for more details.