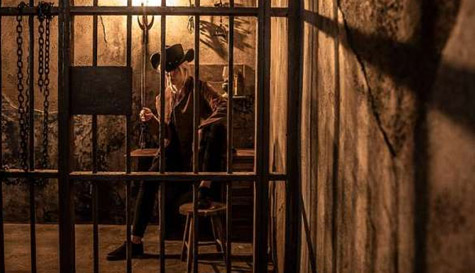 Looking for a Brighton stag do activity that's totally different and just ever so slightly crazy? Then step back in time and enter the world of Phileas Fogg and help him win the greatest wager of all time. Race around the world with Phileas himself (a hilarious actor) as your guide. You'll encounter a series of different themed rooms, each with hidden secrets and games to beat, including a temple, a ship, cave, tomb, emperor's tent, jail and more.
Inspired by the classic Jules Verne novel Around the World in Eighty Days, where Phileas Fogg wagers that he can navigate the circumference of the globe in eighty days, you and the stags will aid him in his quest by winning artefacts. You'll have to tackle a number of mental, physical and skilled challenges to help him succeed. In the adventure you'll travel through sixteen themed rooms in total, will you make it past the Parisian train station, get lost in the Japanese maze or disappear forever in the jungle?
Once you've completed the quest you can celebrate your excellent, well worked victory (or commiserate your disastrous performance) over a pint in the Reform Bar a great place to warm up before an evening on the town. If you're fed up of working together by this point and feel liking cranking up the competitiveness you can take each other on in the games or snooker rooms.
The site is located just five minutes from Brighton station and close to the Lanes so you won't be far from the best of Brighton's legendary bars and pubs.
After all that problem solving and physical action, you'll have earnt a well-deserved pint and a spot of food. Try our stag night Pub Grub for a hearty meal before you hit the town for that night out. Contact one of our team today for more information about booking this complete Brighton party package.