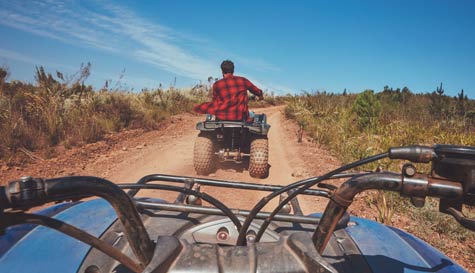 This is no gentle afternoon drive around a circuit - our Brighton stag party quad biking is all about experiencing quads at their best, and that means big engines and hard riding. You and the lads will head back to nature (and then drive all over it) with uphill struggles, steep descents, ditches, dips and dirt paths. Plus there's the added bonus of seeing the groom potentially take a corner wrong and parking it in a tree!

If you've never ridden a quad bike before, this is one of the best places to try it for the first time, the staff are excellent and the ride will be tailored for your skills. If you have a mixed group a gentler route and easier pace can be set. If the stags are all up for an adventure then the instructors will pull back on the throttle and ramp up the action.

You'll have 5 miles of trek to get wild on (depending on the group's speed) which offers challenging and at times epic terrain. But remember what George Orwell never said "Four wheels good, two wheels bad", so try not to do an Ozzy Ozborne and make sure you all get back in one piece.

This is a great place to finally express all the pent up commuter road-rage and enjoy the great outdoors... And then fill it with sounds of 4WD, stag party madness!
WHY NOT ADD...
Double your fun on your Brighton stag do, get a great deal by adding a second stag vs stag challenge at this site.