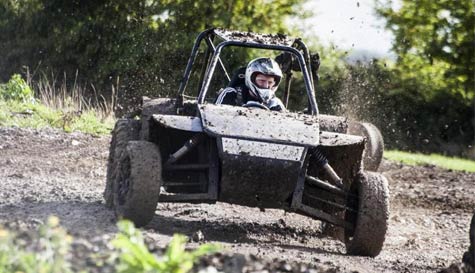 There is absolutely no doubt that this is one of the great forms of racing. In the world. Ever!

You've heard of mud wrestling and you've heard of go karting? Well, we've now combined those two epic activities into perhaps the greatest racing formula ever (although we have had to remove the naked women from the equation as stags kept crashing). Simply put, our Bristol stag party mud buggies are epic!

These crazy high powered machines will quite literally chew up and spit out any terrain you point them at, it just so happens that the terrain you'll be facing is a mixture of mud, gravel tarmac, grass and all kinds of other stretches of difficult to navigate and slippery terrain. Being 500cc and with incredibly light but tough bodies, these machines really do go like the proverbial horse waste off a garden digging implement and can hit up to 70mph which feels so much faster when you're so low to the ground.

When it comes to sheer driving thrills and fast-paced fun, our Bristol stag do mud buggies are perhaps the greatest driving experience around. You can hurl them round corners, bounce over terrain, fly through puddles and mud bogs as if they're not there. But if you have any precious stags in your group who are a little too attached to their hair products and moisturizer, then be prepared for a bit of a girly reaction as you WILL be getting muddy. Overalls are provided but bring a change of shoes and possibly a change of jeans (boots are the best option, with your trousers tucked inside, not a cool look but you'll emerge cleaner).

This competitive element is a rally-style time trial to see which stag posts the best time. The genius of time trials is you'll all be on the same course, driving the same machine so there can be no excuses. You'll finally be able to put an end to the argument over who is the best driver. Stag points and kudos to the winner, pint penalties should go to the slowest stag (or set your own forfeit).
Don't fancy a mad dash to your next activity? Our mud buggies site can also host a selection of other awesome events including:
You can make yourselves comfortable at the venue which has a drinks machine, Sky T.V., toilets, showers and plenty of parking. If you want to use the showers, remember to take a towel & toiletries!