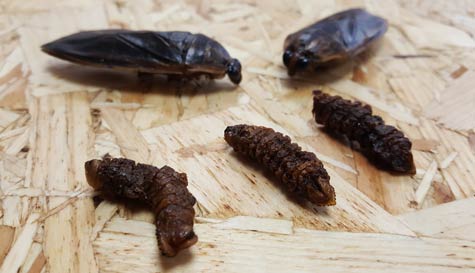 Low in fat, high in protein and utterly disgusting our stag party bush tucker trial is the ultimate in stag pranks.
But it's not just about the groom. We don't want the rest of the stags standing around getting hungry so you'll receive a large number of bugs for the whole group to chow down on. The last round has only two bugs for a head to head final 'bug off'.
Round One - Chocolate Coated Crickets
Delicious crickets covered in a smooth chocolate shell.
Taste - Mildly nutty, sweet chocolate shell.
Best served with - Chilled lager.
Amount - Approximately 30 crickets.
Round Two - Chilli Fried Mexican Grasshoppers
Hot and spicy, these things have a kick. Well they did before we fried them.
Taste - Chilli seasoned.
Best served with - Pinot grigio.
Amount - Approximately 150.
Round Three - Mopane Worms
Low in fat so you can have another beer without worrying about calories.
Taste - You know what a good hamburger tastes like? Nothing like that.
Best served with - Lemonade.
Amount - Approximately 30.
Round Four - Waterbugs
2 - 3 inches in length, these are bugs that feed on other bugs.
Taste - We're not going to sugar-coat it, these don't taste good (or sugar-coated).
Best served with - Anything that takes the taste away.
Amount - 2 insects.
Beer Bug Pong - #BugPong
Beer pong... Yawn, that's just so 2015. The world has moved on my friend and you should too by taking the classic beer/pong ratio and slipping in a few gruesome bugs.
The first player (is it 'ponger' or 'pongee'?) bounces the pong toward the cups which are filled with either beer or a bug. Once a cup has been drunk/eaten it's removed from the game until all the beer and bugs are gone.
And make sure you film and upload the groom in action. #BugPong