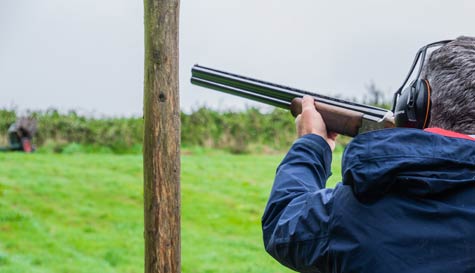 This superb Cambridge stag party clay pigeon shooting site is the perfect location for some epic sporting action. As stag challenges go this is a classic, it's brilliant fun, hugely competitive and you get to fire bloody big guns all in a safe and controlled environment.

It doesn't matter if you're clay shooting newbies as the instructors will be on hand to make sure all the lads get the most out of the experience, what's more we're pretty darn good at it in this country (British clay pigeon shooters have won a bagful of Olympic and World titles over recent decades). As competitions go our Cambridge stag clay shooting is perfect. Each stag will shoot individually while the rest of the guys watch which means great banter but also you'll get to admire those stags that really are plucking 'birds' out of the sky. It really is a massively addictive sport and firing the hugely powerful 12 or 20 bore shotguns is a real adrenaline buzz.

Once the clay dust has cleared, the scores will be counted back at the clubhouse and the winner presented with a prize. We'll let you set your own pint penalties for the loser.