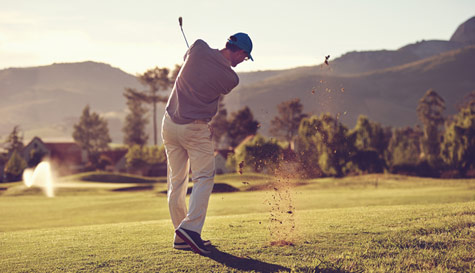 Not just for your dad and grandad anymore, anyone and everyone's up for a cheeky round of golf these days from Snoop Dogg to Celine Dion. A true test of golfing skill awaits even the most experienced and established golfer here.

Whether you're a complete beginner or a pro-style golfer there'll be experts on hand to help out when you venture out and get a feel for the game with its generous fairways and punishing rough, and when the wind blows things can actually get a lot tougher.

So if you're new to the sport, and you're wondering whether golf can really keep a load of raging stags entertained then think again, this will demand all the skill you can muster with two hands and a load of metal sticks to knock that little white ball around the course as quick as you can.

Since opening in 1974, the 6750-yard par 72 course has played host to a number of professional golf tournaments meaning that you and your group of (potentially hungover) stags can follow in the footsteps of the world-famous Tom Watson, Nick Faldo and Seve Ballesteros by teeing off on the very same course! If your groom to be is a big golfing fan, you're sure to get some serious brownie points by bringing him to our golf stag party in Cambridge...