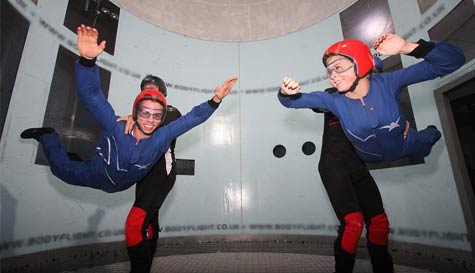 If your stag party is looking to experience something totally different during the groom's big farewell weekend then our Cambridge stag party indoor skydiving is an epic activity that will leave all the guys totally buzzing.
"Is it a bird? Is it a plane? No. It's a slightly hungover groom having the time of his life and a near out of body experience!"
After a quick safety briefing you'll get kitted up into jumpsuits, goggles and helmets, not just a great stag team photo opportunity, we know you guys are going to make those suits look gooooooood. Once you're all ready to fly you'll enter the wind tunnel for an adrenaline-pumping ride of your lives as you experience the thrill of the equivalent of a 40,000ft free-fall jump (that's the same as 3 tandem skydives but you won't need to be strapped to an instructor but be flying totally free!). Twice! Yep, you'll get to enjoy two rides.
Wind speeds hit 180mph lifting, enough to ruffle even the most fastidious stag's 'do' so make sure the lads have plenty of product. However, the fun far outweighs any fashion concerns and this really is the ride of a lifetime.
For many stags who have tried to participate in a real jump, this really is an awesome experience, it can't be hampered (or cancelled) because of high winds, fog or rain. You'll experience a far longer 'freefall' and you won't have to be strapped to some bloke you've only just met. It's also much more budget-friendly but delivers a massive buzz that will be with you well into the evening's first well-earned pint.
Mix With
For even more fun you can add this activity as part of a combined
Adrenalin Day
.