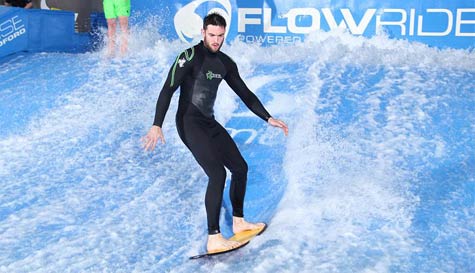 If any of the stags have ever fancied themselves as a surfer dude then now's their chance to put test themselves against the Flow Rider.

Stag party Flowboarding combines the very best elements of not only surfing but also wakeboarding, skateboarding and snowboarding. Water is pumped at high speed over a specially designed floor to create constant surf and for you to ride. You'll be given some initial training by the experienced instructors before you hit the water, it's then every stag for himself as you take to the water one at a time to put your training and balance to the test. Of course, you'll all just have to block out the banter that'll be coming at you from the rest of the stags.
Not only is this a superb sporting challenge but it is guaranteed to have all the lads in absolute hysterics, mostly at each other's expense. And while we would normally urge restraint and totally obedience of the first law of the stag "What happens in Vegas..." this is definitely one activity you should have cameras at the ready for as you might just catch the groom taking a huge tumble... again and again and again, which will potentially make great ammo for the best man's speech or simply to turn into a suitably montage or fails to go onto Facebook or YouTube. Well, what are friends for.
But regardless of all the lads' balance or failings our stag party indoor surfing in Cambridge is brilliant fun and nice original activity.
Mix With
For even more fun you can add this activity as part of a combined Adrenalin Day.