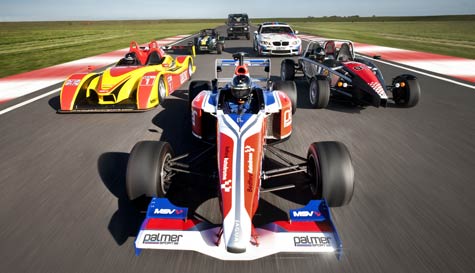 Ten hours of Ultimate Supercar Experience is perhaps the true fruition of our never ending search for high speed stag adventures. If we could hand pick all the cars we know bring the most stag thrills and spills and line them all up for a single stag lads driving day then these are the exact machines we could pick. You'll go from zero to hero at approximately "Aaaaarrrghhhh!" miles an hour.

Not only will you find impeccable service throughout your day (breakfast and lunch are included), this is the highest spec racing circuit you will ever race on without a pro licence. On top of all that it's head to head to find out who really is the best driving among you. Top Gear style.

All the cars are prepped to race spec and are like nothing you'll have driven before; formula racing cars, high-performance sports cars, professional spec touring cars, off-road monsters, supercars. You'll also get to take on the beast that Jeremy Clarkson complained: "blew his face off!"

All this, but with the thrill of competition; you will all be scored on your skill levels and timings around the track, with prizes awarded for the best at the end of the day!

Every guest drives every single one of these cars in one sublime day:

Ariel Atom
BMW M3 GTP
Formula Jaguar
Caterham 7 Superlight
Land Rover Defender
Sodi Kart
Caterham Pursuit

You can also upgrade to include a drive in the unbelievable Palmer Jaguar JP-LM to your package.