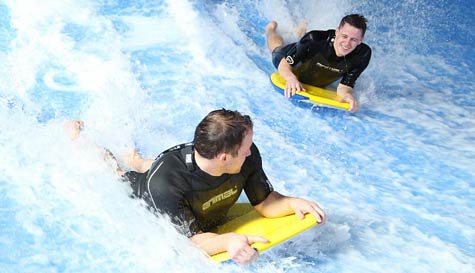 Simply put... bodyboarding is awesome!

Let's face it, any good stag party needs a new previously untried activity for you and the guys to sink your teeth into whilst ripping into each other's failed attempts and faceplants. Not only is bodyboarding a fantastic sport which even fresh-faced novices can really have a go at but it's side-splittingly good fun watching your friends swallow a face full of surf.

Previously the one drawback with bodyboarding was getting up on your board and feeling like a surf god for five seconds before crashing back into the water. Then having to paddle back out and wait for the next big wave which can break your rhythm when you're keen to get back up.

However, canny Cardiff has come up with an ingenious solution to the problem. Their automated indoor surfing system means that no matter the weather or waves, you and the boys are guaranteed to get your chance for a totally gnarly weekend. Jets of water recreate the sea waves, just better. Consistently big, powerful and steady, it's a surfing experience ideally suited for beginners looking to find their feet, or experts who want a chance to show off their skills without all the pointless paddling and waiting around for the surf.

What's more, the indoor surfing machine is large enough for multiple riders to use at once, meaning you and the lads can tackle the waves at the same time creating good rivalries and some classic stag competition.

With so many chances to point and laugh at each other's failed attempts, this is a perfect stag activity for energetic lads who like to tackle new challenges and have a giggle at the groom's expense.